We have several brands as below, If no specifying for your order, then we will delivery randomly.
Original one from Huawei OLT: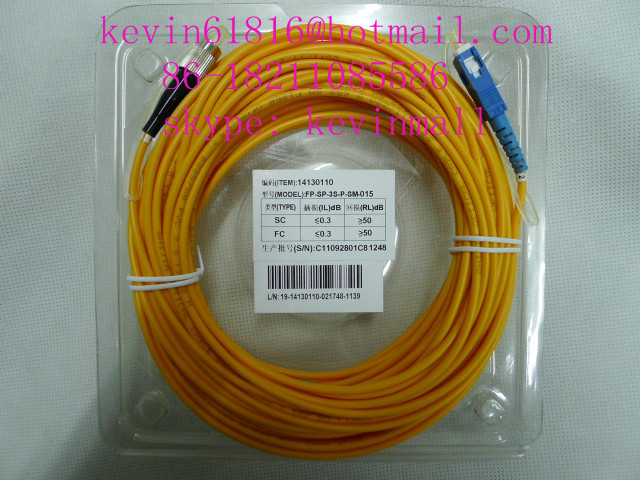 Aviation brand:
Below is Optec brand: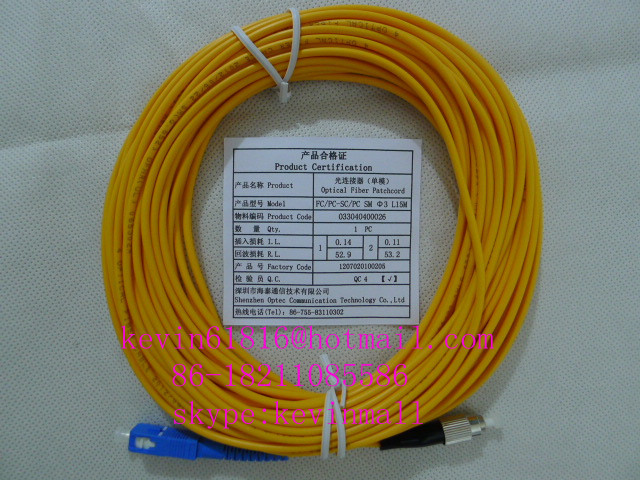 Below is JPT brand:
SC-FC SM Simplex Fiber Optic Patch Cord
_______________________________________________
Fiber Optic Patch Cord, also named Fiber Optic Jumper or Fiber Optic Patch Cable, is one of the most frequently used components in fiber optic network, and is used to linking the equipments and components in fiber optic network.
Generally, fiber optic patch cord is devided into single mode patch cord and multi mode patch cord according to the mode, and is devided into FC, SC, ST, LC patch cord according to the connector on it.
Sailing's fiber patch cords suited for equipment jumper cable,cable,corss connects and word area connecctions. All patch cords are 100%factory tested to ensure performance to reach the standands.
Applications:
a, Telecom and Datacom
b, Storage Network
c, CATV & Multimedia Application
d, Systems Integration for Long Haul, Metro and Access Network
e, Fiber to the Indoor (FTTX) Test
Features:
a, Lower Insertion Loss
b, High Return Loss
c, Excellent Repeatability
d, Environmentally Stable
NO.

Feature

Description

1

Application

1.1

Telecommunication Networks

1.2

Testing equipment

1.3

Local area networks

1.4

CATV

2

Technical specification

2.1

Insertion loss

SM: PC≤0.3dB,UPC≤0.2dB APC≤0.2dB
MM: PC≤0.2dB

2.2

Return loss

PC≥45dB,UPC≥50dB APC≥65dB

2.3

Durability(1000times)

≤0.2dB

2.4

Temperature range

-40 - +80

3

General features

3.1

Compliance with the standard of IEC and YD-T826/1996

3.2

High return loss and low insertion loss

3.3

High reliability and stability

3.4

Three types: PC/UPC/APC

3.5

Simplex and duplex cable

3.6

Cable diameter:Φ09mm/ Φ2mm/ Φ3mm
About Us
We have great products at great prices. You`ll find that the products we sell are often below the retail and/or wholesale prices, or at the very least, cheaper than your can find from our competitors. We only sell what we think are the best deals or what we can get directly from the factory. Although we always look for further expand our inventory, we believe that by focusing on few products at a time can always bring better value to our customers.
We usually buy directly from real factories, closeout companies and distributors in large quantities for the lowest price. By doing so, we can always pass the savings on to our valued customers.
the following are the related products: