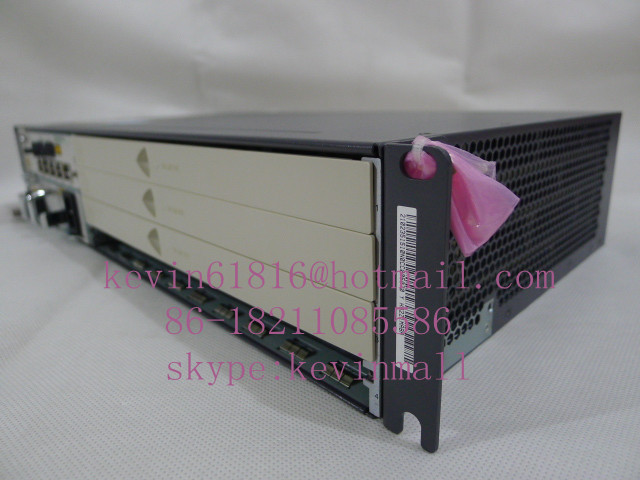 The following is the CCUB card, there are both GPON and EPON ones, please let us know which one you need before delivery, otherwise, we will send randomly:
Also it is double power module DC+AC:
The following is the back side and bottom side:
Accessories: power cable, earth wire, fiber jumper, labels, and other accessories.
You also can choose the power cable from below and inform us before you pay:
Following is the package:
Check the following price for different cards:
ADLE: USD 330 per piece, 32-line data card with 2 cables;
ASRB: USD 200 per piee, 32-line POTs voice card with 1 cable;
ASPB: USD 350 per piece, 64-line POTs voice card with 2 cables;
MA5616 Chassis: USD 400 per piece.
There are 4 solts on each chassis, you can select the card's quantity according to your requirements.
Please tell us the configuration you need before you buy.
Digital Subscriber Line Access Multiplexer IP DSLAM 5616
• Interfaces
Network interfaces:
1-6 FE ports or 1-6 GE ports
Electrical or optical interfaces
802.3ad port aggregation support
Service interfaces:
64 ports ADSL/ADSL2/ADSL2+ line card
32 ports SHSL line card
100M/1000M Ethernet access
Hardware ready for FTTP/FTTH EPON
Hardware ready for VDSL2
Hardware ready for WiMAX
• Superior multicast capailities:
1,000 multicast channels
Powerful IGMP packet processing capability
IGMP pre-join and fast zapping functions
Hierarchical non-block multicast replication
Unique channel preview function
In-service subscriber count
Multicast protocol support: IGMP, IGMP PROXY
Conditional Access based on Port or MAC/IP address
• Refined service awareness and QoS mechanism
Traffic classification based on L1-L7
Rate policing, mirror, redirection, filtering actions, mark 802.1p(3bits) /TOS(3bits) /DSCP(6bits)
according to the classification result
Recognition of subscribers and service types through DHCP Option60/82, PPPoE+, VLAN stacking in
conjunction with upper layer devices
Rate policing, granularity: 64kbps
4/8 priority queues per PORT, scheduling method: PQ/ WRR/ PQ+WRR
• Service wholesale solutions
QinQ support
L2TP support
GRE support
MPLS PE support (in roadmap);
• Layer 2 features
Support Smart-VLAN and Mux-VLAN
4K 802.1Q VLANs and VLAN stacking
16K MAC address table
Port-based MAC address limitation and bindin
802.3ad Port Aggregation
STP/RSTP protocol(802.1D/1W)
• Layer 3 features
Static routing,RIP2,OSPF,BGP-4
DHCP option60/82 and DHCP relay
ARP Proxy
• Robust security mechanism
L2 subscriber isolation, MAC+IP+PVC binding support
Restriction on the number of MAC addresses, subscribers, and multicast groups by port, packet filtration
and broadcast packet suppression by ACL
Flexible CAR setting, refined service awareness and QoS
DHCP server protection, DHCP OPTION60/82, PPPoE+: provide service protection in conjunction
with upper layer network devices
• Carrier-class reliability
Main control board hot standby
Redundancy of upstream links or load sharing through Trunking
1:N interface redundancy
1:N card redundancy
STP/RSTP
• Maintenance and management
Management interfaces: SNMP and Telnet
Management networking: Inband and outband
Common management of all Huawei access products from a single system with Huawei bro
integrated NMS: iManager 2000. Features of the system are:
Cross platform technology: Java-based client software
Network monitoring: fault, performance, and environment and power monitoring
Service provisioning: Support batch configuration and global template management
Fault diagnosis: Support RTU management and DSL Keeper providing end-to-end test and d
system
Northbound interface: SNMP, TL1 and Corba
Error tolerance: Provides database backup tool and supports remote dual-system backup
• Perfect network compatibility
Triple play solution in mono-PVC or multi-PVC
Automatic adaptation of ADSL port types
Automatic adaptation of terminal PVC
Auto conversion between PPPoA/PPPoE
Auto conversion between IPoA/IPoE
• Multi-service processing
Support authentication by port binding, DHCP, PPPoE, or 802.1x, and address re-assignment
Address management: external/internal DHCP SERVER, DHCP Relay, local address pool
management, and RADIUS address assignment
Accounting management: by time or traffic, locally or through RADIUS
• Physical Specifications
Cabinet dimensions:
2.2 m cabinet: 2200 mm x 600 mm x 600 mm (H x W x D)
1.8 m cabinet: 1800 mm x 600 mm x 600 mm (H x W x D)
Frame dimensions:
444.50 mm x 436.00 mm x 420.00 mm (H x W x D)
AC working voltage:
Rated voltage: 220 V, 50 Hz; 110 V, 50/60 Hz
Range: 220 V 30%, 50 Hz10%; 85 V-143 V, 47 Hz-63 Hz
DC working voltage:
Rated voltage: -48 V / -60 V
Range: -38 V - -72 V