It is shown the right position on the chassis: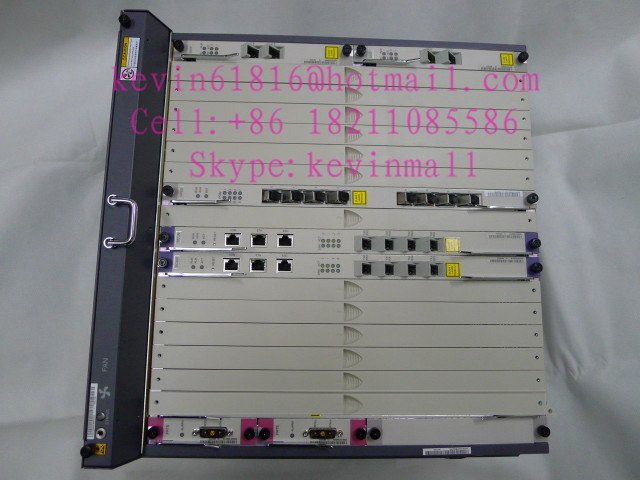 It is the fans inside the equipment: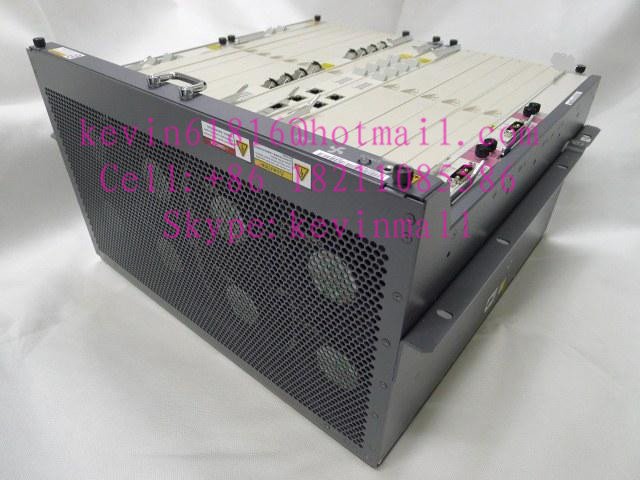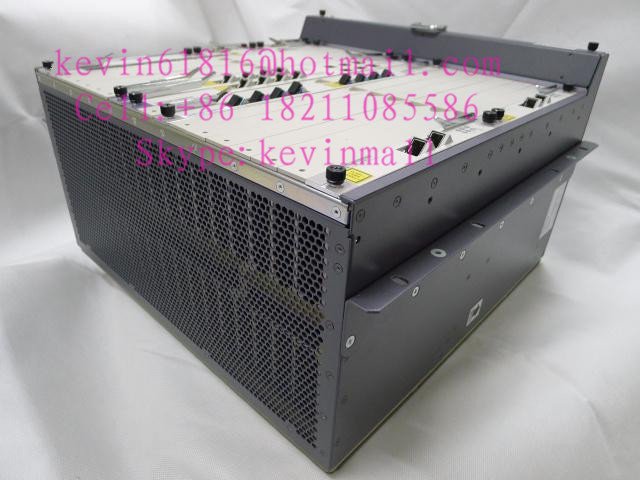 The following is the uplink board,model number is GICF, with 2 modules: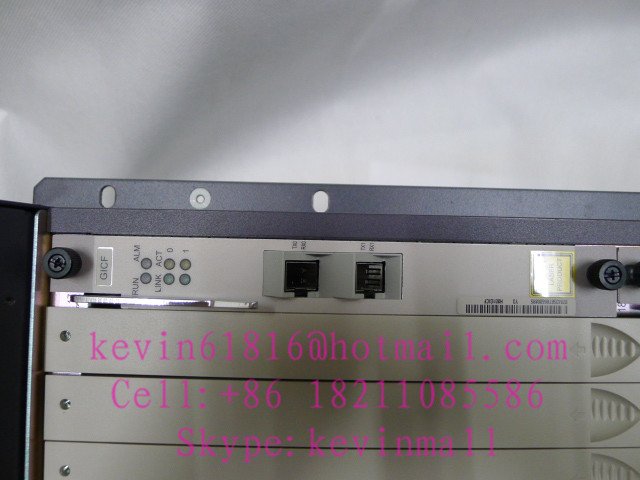 The picture below is for the GPON board, i.e. GPBD, 8 modules included;
and the control board SCUN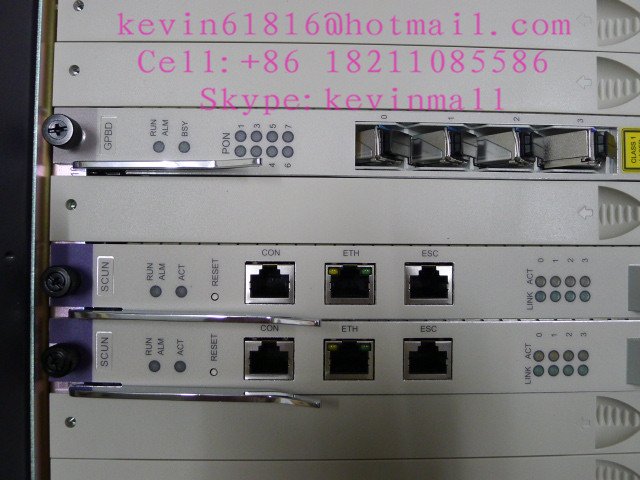 The ports: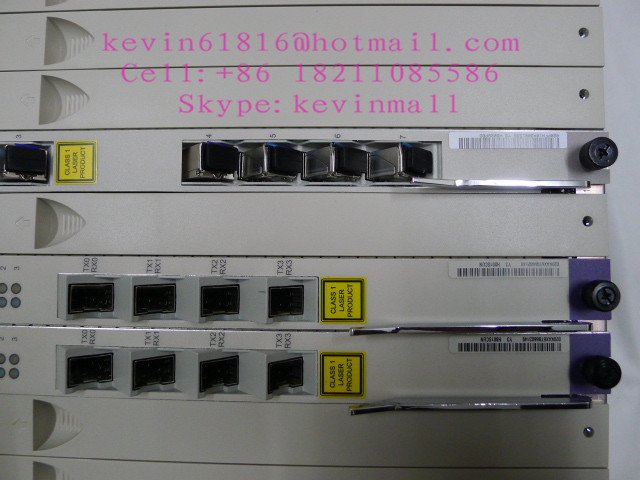 The following is the power board, PRTE:
Cables:
The following is the uplink SFP module:
You can choose one of the following boards.
GPON board: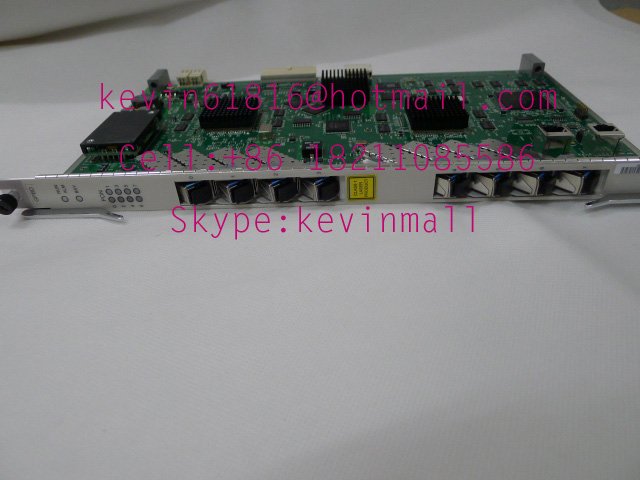 EPON board: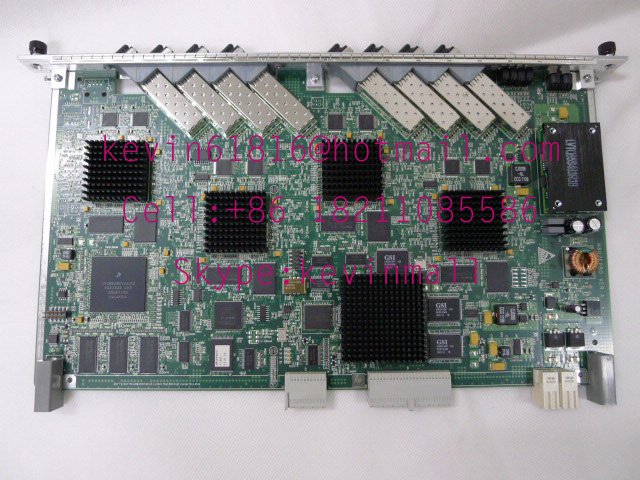 Following is the package:
MA5680T configuration:
2 SCUN control board ;
1 GPON or EPON 8 ports board, 8 modules included;
2 uplink board GICF, 2 uplink modules on each;
2 PRTE power boards;
2 power cables, 1 earth cable.
The power rating is DC,48---60V,20A, the following link is for the power supply, you need to buy seperately:
http://www.aliexpress.com/store/product/Original-Emerson-power-supply-in-cabinet-for-Huawei-OLT-or-ZTE-OLT-48V-20A-power-adapter/208276_622864530.html
MA5680T
SmartAX MA5680T is the global first all-in-one access platform which can provide DSL and optical integrated access. It can provide high density ADSL2+, VDSL2, POTS, ISDN, PON and Ethernet fiber P2P access, triple-play service, and TDM/ATM/Ethernet leased line services for business customers.

The MA5680T can also offer mobile backhaul with high reliability and high precision clock, and high density GE/10GE interfaces for cascading remote access equipments. MA5680T helps to simplify network architecture, to enable seamless migration in FTTx network and lower TCO essentially.


Features

Any Access

Support multiple access methods, VDSL2/ADSL2+/G.SHDSL/POTS/ISDN/ PON/Ethernet P2P;

Support multiple scenarios: FTTC / FTTB / FTTH / FTTO / FTTM.

Any Service

Large capacity IPTV service provision, 8K multicast users and 4K multicast channels;

H-QoS support 3-level QoS (Different ISP/service/user) guaranteeing OLT wholesale;

Traditional E1 service access, NATIVE TDM or CESoP for traditional E1 service of enterprise and mobile backhaul;

E2E high reliability guarantee for business and mobile backhaul, BFD/LAG/Smart Link for uplink redundancy and 50ms switching time of Type B for fiber protection;

Support local traffic self-switching, which meets the requirements of enterprise and campus network.

Access and Aggregation Integrated

Large aggregation capacity, 3.2T bit/s backplane capacity,960G bit/s switch capacity, 512K MAC addresses;

High density GE/10GE interfaces for cascading, up to 36*10GE or 140*GE interfaces, no need for additional investment of aggregation switches;

High reliability networking support direct connection to the BRAS, and hitless software upgrade function.

Unique ATM DSLAM Cascading

Cascade ATM DSLAM with ATM STM-1 interfaces;

Reduce OPEX by reusing ATM DSLAM and removing ATM aggregation network.

Green

First company that complies to COC standard, average DSL port power consumption is 10% less than industry;

The maximum power consumption of the 8-port GPON line card is only 55W, which is 30% less than industry.
Applications & Benefits

Network Seamless Migration, Protect Investment

Unified fiber/copper platform, maximizes network resource value;

Lower investment risk in network transformation with equipment reuse: FTTE, FTTC, FTTB, FTTH or mix.

Full Service Access, Increase Revenue

Unified access for resident, business and mobile backhaul, reduce network equipment and TCO;

Enriched experience, reduce churn and increase ARPU.

Energy Saving

Cut down power consumption and maintenance cost.
Original equipment from Huawei factory.
Note:
There are two sizes of Huawei MA5680T chassis: 21in and 19in to adapt two different cabinets.(the total slots of 21in is 20 rows, the total slots of 19in is 18 rows.)
the OLT cabinet produced by Huawei is 21in, but most cabinets on the market
is 19in, these two models cant be compatible with each other.
Please verify the size of your cabinet before you buy,
and then select the right size of the OLT equipment.