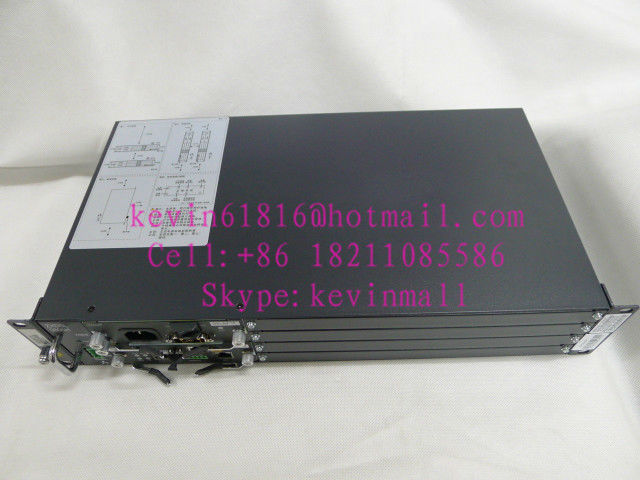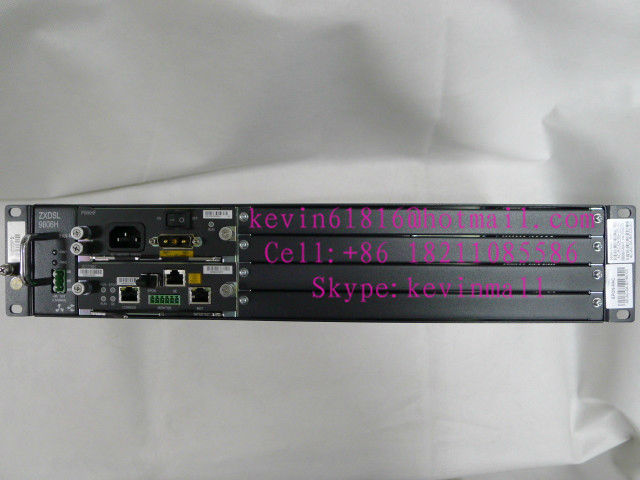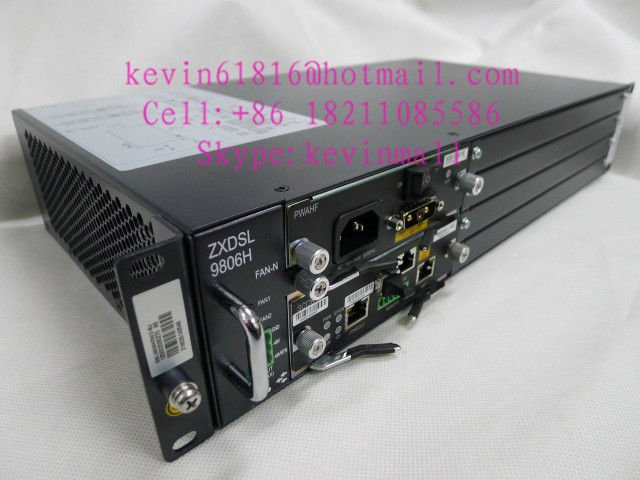 There are PWAHE and PWAHF two models of the power card, all are two power input, DC and AC, the same price and function: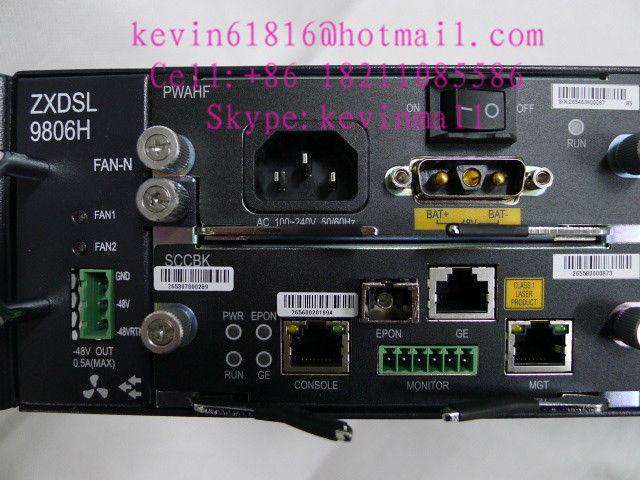 The back side and bottom side:
Power cable, earth wire, and fiber jumper:
You also can choose the power cable from below and inform us before you pay:
Specifications
ZTE Micro IP-based, Multi-Media-Service-Oriented and NGN-Ready DSLAM for both Outdoor and Indoor Installation
Features and Benefits
• Mini size and high density
With just 2-U-height 19'' standard size, the system support s up to 96 lines in one box.
• Abundant interface types
To be adapted to different networking environments, ZX DSL 9806 H offers various types of network interface, service interface, maintenance interface and test interface.
• Powerful IPT V Service support
The system supports IGM P router, IGM P Proxy and IGMP Snooping. Besides, the system has a series of enhanced functionalities for the support of IPTV, such as CAC (Channel Access Control), PVR (Preview), CDR (Cal l Detail Record) and MVLA N (Multicast VLAN Register). And channel zapping time is less than 50ms.
• High Guarantee on IP QOS
ZX DS L9806 supports various QOS mechanisms such as queue scheduling, flow classification, traffic monitoring, port rate limiting , traffic mirror and so on.
• User-Friendly Management
ZX NM 01 Integrated Management Platform provides NE management for all kinds of ZTE products, such as L2/L3 Switch, ATM Multiplexer, Soft switch, WIMX, etc. as well as xDSL. The powerful NMS provides user-friendly GUI and easy to use. Besides, the system has high security.
• Flexible Networking
ZXDSL 9806H supports various networking modes, meeting the demands of different environments and services, such as star, chain, ring and hybrid topology. Beside, the system supports Q-in -Q/ VLA N stacking networking, providing dedicated line interconnection and VLAN expansion function.
• High Reliability and Security
The whole ZXDSL 9806H system adopts telecom-class reliability design, ensuring the security and reliability of the device.
• Outdoor Installation
Inserted into ZTE designed outdoor-type cabinet, ZXDSL 9806H can be installed in scenarios like outdoor pole and residential/business building.
Technical Indices

Interfaces
• System Capacity
4 slots for line card and 1 slot for C&S card and 1 slot for power supply
96-port ADSL2+, or 64-port VDSL2 per unit
• Network and Subtending Interface
2 GE or 2 FE interfaces in C&S card for uplink and cascading or subtendingGPON ONT interface
• Subscriber Interface
24-port ADSL/2/2+ card
16-port VDSL2 card

Protocol
• ATM
ATM FRUM TM4.0 and I.131
COS: CBR, rt-VBR, nrt-VBR, UBR

• IP / Ethernet Protocol
IEEE802.1D, 802.1W, 802.1p, 802.1Q, 802.1x,802.3ad

• Multicast
256 Multicast Groups
IGMP router, IGMP Proxy, IGMP Snooping
MVLAN: Multicast VLAN Register
CAC( Channel Access Control), PVR( Preview), CDR( Call Detail Record)

• QOS
Support COS priority based on 802.1p
Queue Schedule: SP, WRR
rule-based packet filter, re-location, flow mirror, flow statistics, flow monitoring, port queue scheduling, port rate restriction and VLAN
modification policy.

• Security
ACL
IP address, MAC address and port binding
User port identification such as DHCP Option 82

Stability and Reliability
•Line card hot-swapped
•Uplink port redundancy and trunking
•Ability of fault resumption

O&M
•SNMP V1/2, CLI( Console, Telnet)
•On-Line Test, Remote MODEM Management
•Environment Supervision

Operation Conditions
•Temperature: -5 ºC ~ +45 ºC
•Humidity: 5% ~ 95% non-condensing

Physical Specification
•Unit Dimension: D×W×H= 240mm×482.6mm×88.1mm
•Equipment Weight: 8 kg
•Power supply: -48V DC, -57 VDC ~ -40 VDCor 220V AC, 85V ~ 250V AC
•Power Consumption: 180W in full loadZXDSL